No filter available
IT ALL MATTERS.
RESTROOMS
MATTER MOST.
PUT LYSOL® - THE #1 DISINFECTION BRAND* - AND OUR FULL RESTROOM PORTFOLIO TO WORK FOR YOUR BUSINESS.
GET THE "LIKES" THAT MATTER.
The Lysol® Pro Solutions portfolio can help deliver cleaning efficiency and disinfection for a pleasing environment with a fresh scent.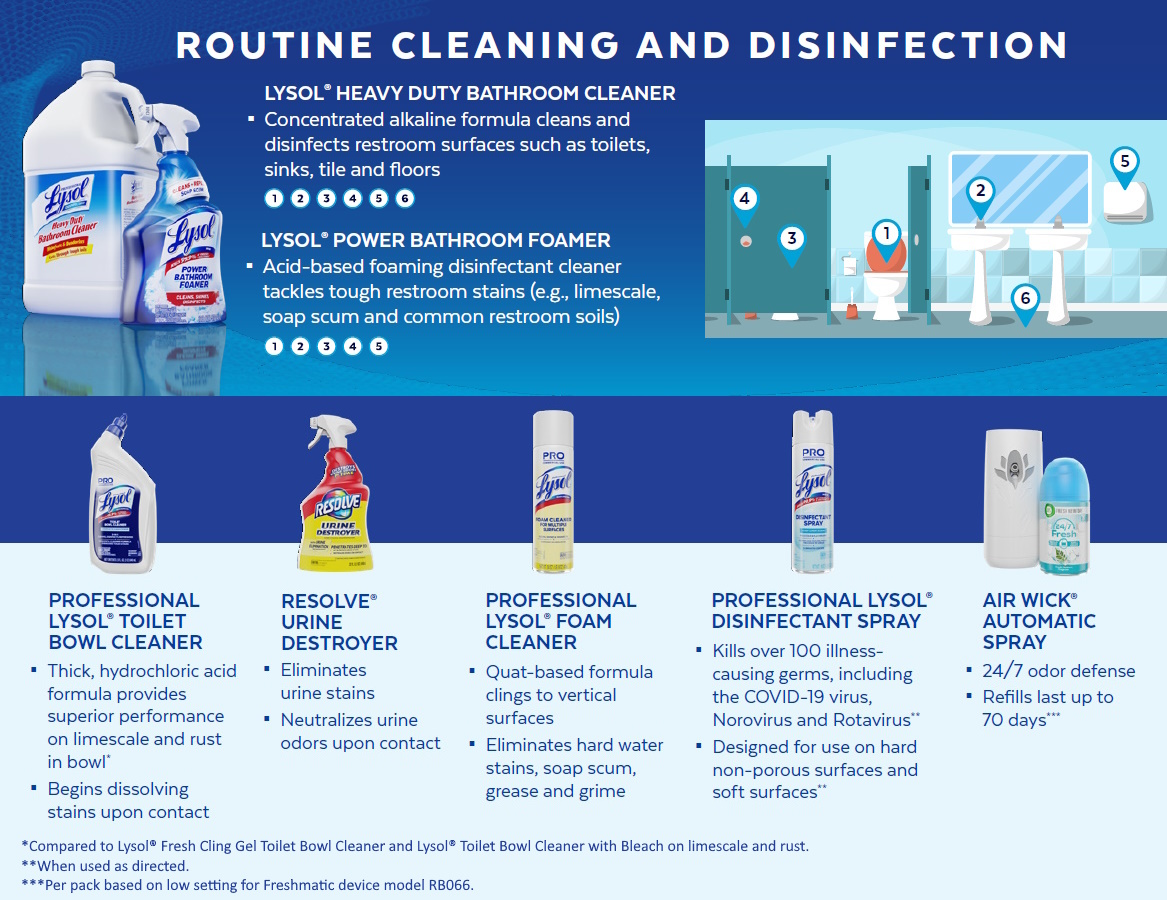 | | | | | | |
| --- | --- | --- | --- | --- | --- |
| Lysol Pro Solutions for Restrooms | Format | Unit Size | Units/Case | Reckitt Item # | Distributor Item # |
| Professional Lysol® Heavy Duty Bathroom Cleaner Bottle | Concentrate | 1 gal | 4 | 36241-94201 | RAC94201 |
| Lysol® Power Bathroom Foam Trigger - Atlantic Fresh | RTU | 32 oz | 12 | 19200-02699 | RAC02699 |
| Professional Lysol® Toilet Bowl Cleaner Angled-Neck Bottle - Wintergreen | RTU | 32 oz | 12 | 36241-74278 | RAC74278 |
| Resolve® Urine Destroyer & Odor Remover Trigger Spray | RTU | 32 oz | 6 | 19200-99487 | RAC99487 |
| Professional Lysol® Foam Cleaner4 Aerosol6 | RTU | 24 oz | 12 | 36241-02775 | RAC02775 |
| Professional Lysol® Disinfectant Spray Aerosol - Crisp Linen® | RTU | 19 oz | 12 | 36241-74828 | RAC74828 |
| Air Wick® Automatic Spray Starter Kit Black - White Flowers & Melon Summer Delight® | RTU | 1 gadget / 1 5.89 oz refill | 4 | 62338-88410 | RAC88410 |
| Airwick® Automatic Spray® Refill - Fresh Waters® | RTU | 5.89 oz | 6 | 62338-79553 | RAC79553 |
© 2023 Reckitt Benckiser LLC. All Rights Reserved. RB1304.2306